Quick Info
Thanks for scanning that handy QR code on your badge! Your reward is this handy info to help you have a great time at Maker Faire Orlando!
Event Hours
Maker Check-in and setup is from 10am to 8pm on Friday, November 4.

Maker Check-in resumes from 8am to 9am on Saturday, November 5.

Maker Faire Orlando 2022 is open to attendees from 10am to 5pm on November 5 and 6.

The Maker Faire Orlando VIP Fundraiser event (separate ticket) is from 6pm to 8pm on Saturday, November 5
TIME CHANGE OVERNIGHT
Gates open for makers at 9am on Sunday, November 6.

Maker Manual
The Maker Manual contains helpful tips and info for exhibiting makers.
Anti-Harassment Policy
Maker Faire Orlando has a zero tolerance policy for harassment of any kind - Learn more: Anti-Harassment Policy
Looking for a Maker or Hands-On Experience?
Check out the full list of maker exhibits! You can filter by category, or search for an exhibit.
Install the Apps!
You can get the Maker Faire Orlando app on Google Play and the Apple App Store.
Event Schedule & Program
Use the event program including map and schedule to find exhibit zones, hands-on activities and times for Power Racing. Click the images below for a PDF version of the program.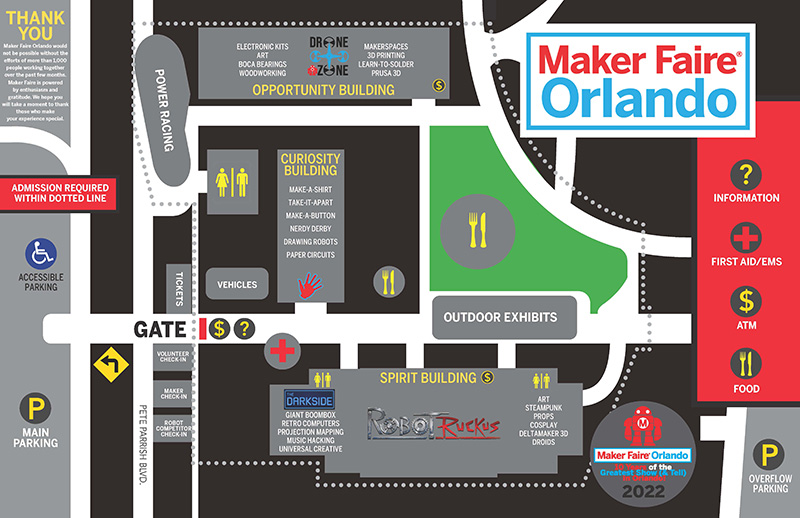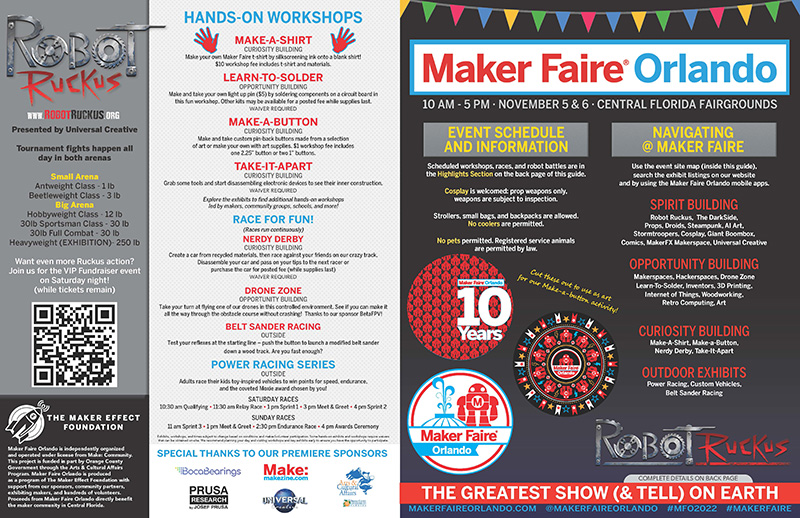 ---
Exhibiting makers and available experiences are subject to change based on community availablity.